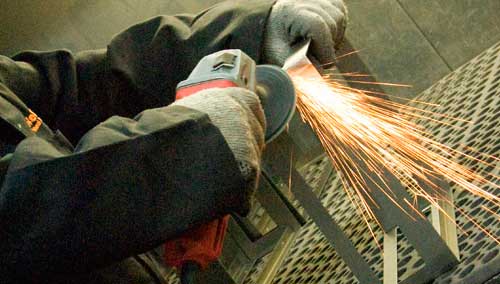 Safety is always important, but for the steel fabrication industry, it is paramount. After all, metal fabricators who work on Toronto projects face an array of potentially dangerous situations. For that reason, anyone associated with the sheet metal fabrication process must adhere to strict company policies and safety laws and regulations established by government agencies.
With this brief guide to safety, whether for standard or custom sheet metal fabrication in Toronto, you can appreciate a reputable company capable of identifying possible issues before something bad happens.
Material Handling – A professional company that provides services for sheet metal fabrication knows how critical it is to handle raw material correctly. Regardless of the type of metal involved, the most common risks include cuts from sharp edges and serious back sprains caused by improper lifting. To prevent accidents, top companies rely on equipment to move workpieces from one area to another.
Toxic Fumes – Metal fabricators in Toronto who develop parts and components also have to avoid breathing in toxic fumes produced by chemicals, lubricants, and welding. In this case, experts use high-quality ventilation and exhaust systems and don the appropriate protective gear.
Tool Usage – As part of the process for both standard and custom sheet metal fabrication in Toronto, experts rely on a variety of hand tools. For optimum safety, a reputable company hires only experienced workers and provides ongoing training. With these, there is less a risk for fabricators to develop tendonitis, carpal tunnel syndrome, or repetitive strain syndrome.
Machine Guarding – For a manufacturing company to remain compliant with current laws and regulations, machines must have safety guards. As a protective barrier, these components prevent contact with any dangerous parts. Depending on the type of machinery involved, manufacturers can choose from an assortment of options, including permanently fixed barriers, physical barriers, interlocking barriers, and even a presence sensing system.
Adhering to Safety Protocols
Along with training and providing metal fabricators in Toronto with proper equipment, a top-rated company has supervisors who oversee operations to ensure that everyone follows the guidelines. Plant supervisors also hold regular meetings to discuss safety issues, including how to reduce risks and the introduction of new solutions.
Safe Operations
At Weldflow Metal Products, we maintain a safe working environment. Without concerns of accidents, our fabricators can focus on the task at hand. Ultimately, that allows them to create even the most intricate parts and components, on time and within budget. We take the topic of safety seriously because we know that accidents impact the customer's experience. You can learn more by scheduling an appointment, visiting our website, or calling to speak with a company representative.