If you're in the market for professional laser metal cutting, we can help. At Weldflow Metal Products, we've assisted customers with outstanding sheet metal laser cutting for more than 40 years. Our entire team takes extreme pride in delivering laser cut metal products that meet every customer specification while keeping our prices competitive.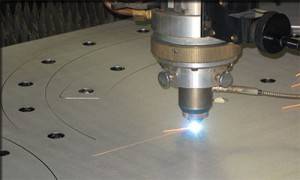 Varied Laser Metal Cutting Services
We offer different categories of laser cutting to customers in Mississauga and the rest of Ontario so that we can accommodate every customer's request.
Steel Laser Metal Cutting – Within this particular category, we can profile steel in many different thicknesses. This includes the thinnest possible gauge to steel plates.
Customization – Not every company that provides laser cutting in Ontario offers customized solutions. At Weldflow Metal Products, our goal is to deliver exactly what you need regardless of volume or complexity. As part of this category, we offer many different materials, including aluminum, brass, copper, galvanized, satin coat, and stainless steel. With our expert laser cutting of metal, we can produce specialized profiles or production parts based on your specific criteria.
While some of our work for laser cutting in Mississauga focuses on prototypes, as well as parts and components, we can also make alphabet lettering, specific fonts, and art if needed. That capability allows us to work with a much broader range of industries compared to other companies that perform laser metal cutting.
Revolutionary Equipment
One of the many unique aspects of working with Weldflow Metal Products is the equipment we use. As a prime example, we perform sheet metal laser cutting using the ENSIS 3015 AJ fiber laser from AMADA. Along with outstanding service for laser cutting in Ontario, we also offer engineering design, contract management, welding, assembly, and more.
Turn to a Trusted Source
Why settle for second best when Weldflow Metal Products provides a superior service for laser metal cutting. Contact us today for a free quote on your project.