If you're looking for professional laser metal cutting services, look no further. At Weldflow Metal Products, we have over 40 years of experience in providing exceptional sheet metal laser cutting solutions. Our dedicated team takes immense pride in delivering laser cut metal products that precisely match our customers' specifications, all while ensuring competitive pricing. We are committed to exceeding your expectations and delivering the highest quality results.
Varied Laser Metal Cutting Services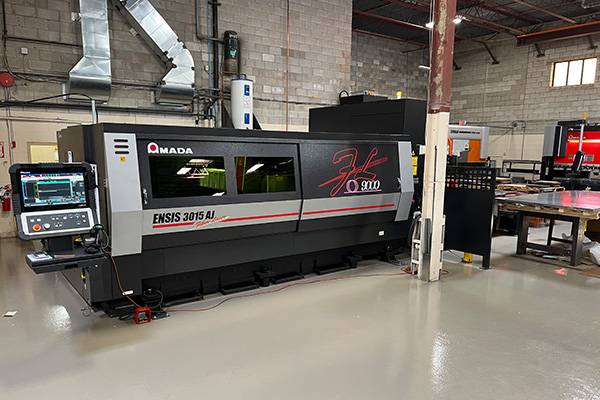 We offer a diverse range of metal laser cutting services to customers in Mississauga and throughout Ontario, ensuring that we can fulfill every customer's unique requirements.
Steel Laser Metal Cutting - Within this category, we excel at profiling steel across a wide range of thicknesses. Whether you need the thinnest gauge or steel plates, our cutting capabilities can handle it all.
Customization - Unlike other laser cutting companies in Ontario, Weldflow Metal Products is dedicated to providing customized solutions. Irrespective of volume or complexity, our objective is to deliver exactly what you need. As part of our customization services, we work with a variety of materials, including aluminum, brass, copper, galvanized, satin coat, and stainless steel. Our expert team utilizes laser cutting technology to produce specialized profiles and production parts that precisely align with your specific criteria.
In addition to our expertise in laser cutting prototypes, parts, and components, we possess the unique ability to create alphabet lettering, specific fonts, and artistic designs. This versatility sets us apart from other laser metal cutting companies, enabling us to cater to a wider range of industries and their diverse needs. Whether you require precise lettering for signage or intricate artistic elements, our team at Weldflow Metal Products is equipped to deliver exceptional results that align with your vision.
Revolutionary Equipment
One of the many unique aspects of working with Weldflow Metal Products is our commitment to utilizing advanced equipment. We are proud to share that recently upgraded to a new state-of-the-art fiber laser cutting machine, the Fiber laser EN3015AJ-9KW, manufactured by AMADA. This is one of Amada's latest high power fiber laser cutting machine with automated collimation technology system. This system dynamically controls the beam collimation allowing it to work with different thickness of material with ease. The Ensis 9KW fiber laser machine has been built with 16 nozzle stations reducing any down time for changing the nozzles manually.
With a focus on delivering outstanding laser cutting services in Ontario, we continuously embrace technological advancements to ensure superior quality products for our customers. This includes our steel laser cutting capabilities, where we have expanded our manufacturing capabilities with the addition of the Fiber laser EN3015AJ-9KW machine.
The Fiber laser EN3015AJ-9KW is part of the ENSIS Series, which incorporates AMADA's proprietary fiber laser technology. It enables the processing of both thin and thick materials without the need for a cutting lens change or manual setup. The machine is equipped with three 3kW modules giving a total laser output of 9kW fiber engines, utilizing AMADA's ENSIS Technology. This technology optimizes the laser mode and Beam Parameter Product (BPP) based on the material thickness being processed. As a result, the Fiber laser EN3015AJ-9KW achieves high-speed cutting in thin material, leveraging the benefits of fiber technology, while also offering the capability to process thick plates.
The Fiber laser EN3015AJ-9KW comes with a range of standard features, including continuous variable beam control across every thickness of material without any setup, 1.4g acceleration over the entire work area, cutting speeds over 4,700 ipm, automation-ready capabilities, and energy efficiency.
Advantages of Fiber Laser Cutting
The Fiber Laser EN3015AJ-9K offers a host of advantages that set it apart from traditional cutting methods. One key advantage is its ability to seamlessly transition between cutting thick and thin materials, thanks to its auto nozzle changing feature. The machine intelligently selects the appropriate nozzle from its nozzle bank based on the laser cut metal condition, eliminating the need for manual setup changes.
Additional Benefits of the Fiber Laser Cutting Machine EN3015AJ-9KW
High Productivity: Our Fiber Laser EN3015AJ-9KW is highly productive, ensuring optimal efficiency without compromising on quality. It enables us to deliver outstanding results while meeting your project deadlines.
Energy Efficiency: With the Fiber Laser EN3015AJ-9KW, we can achieve 2kW cutting power on steel profiles that typically require 4kW, making it a highly energy-efficient option.
Material Diversity: Unlike traditional steel laser cutting machines, our innovative Fiber Laser EN3015AJ-9K can handle a wide range of materials with precision. Whether it's aluminum, galvanized steel, brass, copper, satin coat, or stainless steel, we can cut them to perfection.
Specialized Features: If you require intricate lettering, etching, or artwork on your company's signage or individual cutting profiles, the Fiber Laser EN3015AJ-9KW can accommodate your specific needs.
Trust Weldflow Metal Products for Superior Laser Metal Cutting Services
When it comes to laser metal cutting services, settle for nothing less than the best. At Weldflow Metal Products, we pride ourselves on delivering exceptional quality and service. Contact us today for a free quote on your project and experience the excellence of our top-rated fiber laser cutting services.