Throughout our 40 plus year existence, we've continually adopted new technologies to ensure our customers always receive superior quality products. For steel laser cutting, we've further added to our manufacturing capabilities. At Weldflow Metal Products, you can now have your prototypes or finished products made using the ENSIS 3015 AJ fiber laser cutting machine manufactured by AMADA.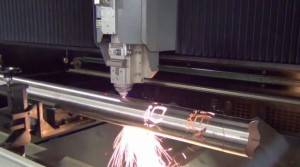 Key Advantages of Fiber Laser Cutting
Among the many advantages of using this equipment is that it's capable of thick to thin material cutting with auto nozzle changing without any setup changes. The laser cut condition directs the nozzle selection automatically from its bank of nozzles.
Following are a few additional benefits of this fiber laser cutting machine:
Highly productive – This machine is exceptionally productive but without ever compromising on quality.
Energy-efficient – Because the fiber laser- ENSIS 3015 AJ enables 2kW cutting power on steel profiles that typically require 4kW, it's highly energy-efficient.
Material diversity – Often, machines used for steel laser cutting have limitations as to the material of the workpiece. However, this innovative equipment can easily cut aluminum, galvanized, brass, copper, satin coat, and stainless steel to perfection.
Specialized features – If you need lettering, etching, or artwork added to your company's signage or individual cutting profiles, the ENSIS 3015 AJ can accommodate.
For top-rated fiber laser cutting services that you can depend on, contact us at Weldflow Metal Products.