Precision Meets Speed: Introducing Our Upgraded Laser Cutting Metal and CNC Solutions (Read More)
Trusted Steel & Stainless Steel Fabricators in Toronto
Instead of spending valuable time looking at multiple sheet metal companies for one that provides outstanding steel & stainless steel fabrication in Toronto, turn to Weldflow Metal Products. We have more than 40 years of experience specific to custom sheet metal fabrication, making us a leader within this industry.
Throughout all our years of providing services for sheet metal fabrication in Toronto, we've come to learn that every customer has unique needs. For that reason, we don't offer a one-size-fits-all solution, but a customized service according to the customer's specifications. Our No. 1 goal is to surpass expectations, which we often do by providing stellar services at competitive prices.
Enhanced Solutions
One thing that makes Weldflow Metal Products different from other sheet metal companies is our extensive list of services. When hiring us for steel & stainless steel fabrication in Toronto, you can choose from a broad range of additional services. These include:
Instead of going to different steel & stainless steel fabricators in Toronto for a single project, you can count on us to assist with all aspects of your steel & stainless steel fabrication needs. As highly respected steel & stainless steel fabricators in Toronto, we take every request seriously. That entails listening to what you need and paying close attention to every detail so that we deliver a superior prototype or finished product compared to other sheet metal companies.
We have extensive experience and knowledge specific to steel fabrication in Toronto. This allows us to produce both standard and custom sheet metal fabrication with guaranteed precision among sheet metal companies. With state-of-the-art equipment and a team of extremely skilled experts, we can make a simple prototype or mass produce intricately designed parts and components.
You can learn more about our full services for steel fabrication in Toronto by visiting our website or calling us to speak directly with a company representative.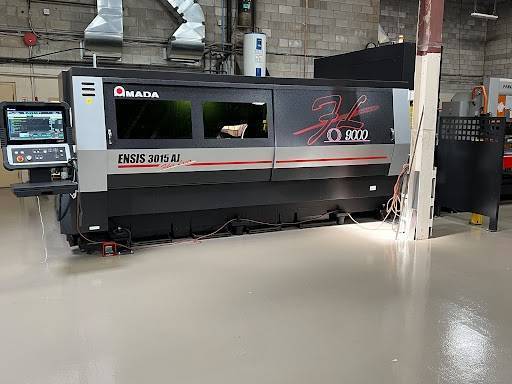 Capabilities
There has never been a better time to re-think manufacturing and use the latest technology to meet the needs of the industry. Experience shows that improvement is a continuous process and in that light remaining competitive will require us to embrace both innovation and change. Thus, Weldflow has recently acquired a new Fiber Laser Cutting system – ENSIS 3015 AJ from AMADA, which will complement our existing capabilities and enable us to service our ever-growing sheet metal processing needs. Furthermore, Weldflow is constantly striving to enrich its capabilities by introducing new improved ideas in engineering design by utilizing available trends in technology; implementing new leaner processes under continuous improvement strategies.
ABOUT US
Weldflow Metal Products is a precision sheet metal facility with custom and contract manufacturing. Recognized widely for our engineering capabilities and management excellence, In Toronto, Ontario we have a dedicated team providing custom sheet metal fabrication services to meet your requirements and achieve top level customer satisfaction. We have the production flexibility of any size of run by utilizing best industry practices of lean manufacturing, by value adding and keeping the competitive edge.